In the midst of devastation, a wonderful mule named Betty found her way into my life. Betty proved to be a great distraction from seeing the pain in Sassies eyes. During idle time at the farm, I began training Betty to work at liberty, or the style of responding to my positions and gestures in the round pen while completely loose, thus the term. When I began teaching her to bow, I noticed her bright willingness to learn.
I saw understanding in her eyes.
'Oh, you want this?' Betty seemed to say as she folded one foreleg back.
When I patted her on the neck, she melted.
'Oh, I get a pat on the neck?'
That was how my love affair with Betty the mule began.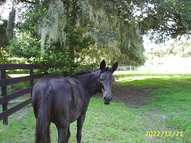 Over the years, this willing animal allowed me to train her to do more than any of my horses ever did. As her repertoire expanded, so did the composition of a routine to use for our act.
Fueled by ambition, the mule represented an opportunity to expand my professional offerings as performer. I aspired to develop another act. My days were filled with horse care and painting sign work for carnival folks in the area with various results, some wholesome, some not. I was distracted by this dilemma with my horse and my head seemed to be filled with cobwebs.
In the midst of all this confusion, I became a regular at the local AA club. I was still driven by intense independence. Although hungry for relief, an internal rigid streak mixed with demand resistance prevented my entering the process of recovery. The process described in the curriculum is achieved by following simple instructions.
Like the shiny metal ball in a pinball machine, my direction was erratic, aimless, driven by self-delusion, misguided intentions and scattered fears as I continued on a self-induced path of ambiguity.
With the winter season over, the time came to travel to Wichita to paint for Butch Webb and his large concession operation. I loaded up the livestock and headed west. The trek had to be an excruciating experience for my mare, who did not have the ability to lay down during the entire trip.
When Nick and I arrived at the tree-lined farm situated in the midst of vast flatland where I always boarded my horse, I fixed her stall with extra deep sand and fluffy shavings. It was fun being reunited with my horseman friends I knew from years of coming to this place. My friends saw my way of going quite different now. Instead of practicing my dancing horse, I doctored her sore feet and nurtured her each day . I provided Sassy as much comfort as I could. No one was familiar with her condition so I received little help. I felt alone. As a group, we only had experience using our horses in health.
By this time several people had attempted to reach me with the truth in regard to the reality of her situation. This irreversible condition in her feet had progressed into the affliction known as founder. I refused to consider what they were saying. I wanted only to find one more thing I could do that would work.
I was blinded by self-delusion. I over-did all of what I was doing for Sassy. I refused to believe that her dancing career was over. I continued to seek information from every source I could. I talked to university veterinarian schools for possibly a miracle cure or their willingness to use her as a study case to facilitate a breakthrough discovery.
The many conversations educated me to the reality of this plight, but instead of embracing the truth, I stubbornly continued looking for a cure. In the midst of all this misery, as the result of one lead, I received hope. A farrier college in Oklahoma City made the claim of being able to reverse the effects of laminitis. I gave them a call.