Gee Gee was on the line. She had a colorful history that started with the Cole Bros Circus in the forties where she rode a roman team of sixteen horses in spec and adopted the gruff demeanor that brought about success in this tough industry. She had recently retired her husky dog act where she dressed in a revealing furry Eskimo outfit and made an entrance on a dog sled pulled by huskies that caused a sensation everywhere she performed. She still had three elephants. They toured the show circuit with her handler while she stayed home and ran the office. Gee Gee was a savvy operator. From her desk surrounded by 8×10 black and white photographs of circus performers, she coordinated acts with engagements and served as an agent.
"God dammit, Dave," she shouted over the phone, "you just got to come see these mules."
My first thought, what in heavens name am I going to do with a mule?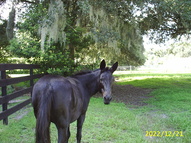 Betty was a jet-black animal with an animated trot and a pretty face. It was love at first sight. There was also a pink-skinned white one with a juggy looking head that did not impress me.
As I studied this black mule, I came up with justification for having her around; 'She'll make a wonderful companion for the horse.'
One more mouth to feed wouldn't be too much trouble. Gee Gee came out from her house, told me the story of how this baby animal came here and soon thereafter, Betty became part of my family.