Ah, the French sidewalk café is famous for its own special romantic ambiance. The colorful umbrellas provide comfort in the outdoors as diners enjoy the sights and sounds of the region. A beautiful dark-haired young woman guides a fruit cart, creating in all who behold her, true desire.
Adjacent to the wrought iron fence that delineated the perimeter of the eatery, a large earthen flower pot with clever ports in the sides has an ample crop of strawberries growing out and over it. A handsome young man sat at one of the tables. He consumed a large waffle cone filled with sculpted frozen custard teased with alternating swirls of chocolate and vanilla. I step back and think: 'surely this image will fascinate all who see it.'
I am in the midst of painting a much larger than normal project. Not only does the job entail the creation of numerous pictorial elements but there is also a tight deadline. The mural work described was painted on the sides of a vending trailer. The images were created to entice the passersby to purchase either a fruit cup or an ice cream cone.
The upscale concession trailer not only caters to carnival venues but also attends events where the consumers' awareness and consumption habits are somewhat healthier. This caterer attends events such as art festivals and conventions rather than the usual fairs. She wanted an upscale image for this elite concession that would reflect the healthier, high-quality product served.
The trailer had large panels that fold up from the roof and on either end, so that when all were fully extended, the piece has the look of a gabled building. This was my canvas. I was instructed that the serving window in the center was to be framed by a scene that would suggest an exotic and romantic deviation from the normal hawkers of foodstuffs. All this and with it came a deadline. Could I get it done? Time would tell. As the days went by, my vista came to life.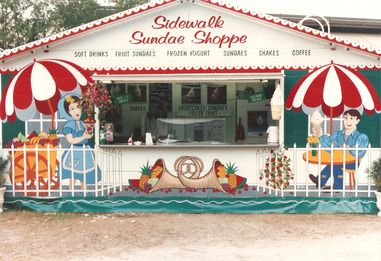 Attention to detail was important with all jobs, especially this one that contained a plethora of design elements. Upon completion, the usual visual inspection took place to make sure that all was well. With the customer's approval, our transaction was complete and the painted panels were folded up for travel. She hooked onto her trailer with her motorhome. As I watched, she pulled away to go to her first engagement.
A few days later I received a call. "You know the little spike that sticks up from the middle of the top of an umbrella?" she asked.
I affirmed, "yes, I know what you are talking about."
She continued, "Well, you forgot to paint one of them."
My heart sank. Not only would this interrupt the current job, but the inconvenience of having to travel to a faraway job site meant loss. There was only one response for an artist building a reputation based on cheerful integrity, and that was to comply with the request now. I loaded the step ladder along with the paint I needed into my van and headed for the fairgrounds. When I arrived at the gate, I explained my mission and was granted entry.
I found the concession trailer, parked my van nearby and made preparations to complete the project. A few strokes of the brush from atop the ladder were all that was necessary. That simple. I had a blend of feelings. Somewhat miffed, I still felt that the minor flaw represented a major inconvenience didn't justify the frustration of all that travel. After all, I had received her complete approval several days ago. But what else could I do? It was at that moment that a man on a bicycle noticed what I was doing. He took in the entirety of the painted scene before him.
He waited for me to come down the ladder for an opportune moment to ask a question.
"Will you come with me?"
The next thing I knew, I walked with him through a seemingly endless display of motorhomes. It just so happened that the RV Super Show was the event taking place at the fairgrounds at that time. Pete had just purchased the brand-new Blue Bird Wanderlodge parked in the center of everything. His desire was for me to paint the name 'Happy Ours' on the front flanked with depictions of champagne glasses.
Soon, with paintbrush in hand, I was back on my stepladder. I accomplished his request. The result of spending the rest of the day on the stepladder painting on a half million-dollar motorhome in the midst of a throng of RV enthusiasts proved to be a huge boon to my career.
By the end of the day, I had answered a variety of questions from the cross section of America that loves to RV. I secured quite a few leads for other jobs. One man wanted me to come to a dude ranch in the middle of the state to paint a depiction of an antique automobile on the back of his coach. I didn't have enough money at the time to consider getting over there with my rig, so I sheepishly requested a down payment.
"You look like a trustworthy fellow," he said as he reached into his pocket.
Back at the farm, I made arrangements for my stock to get fed and got ready to go. I took my rig to the destination he had indicated. After driving into the large complex, I found a lively place landscaped with fresh flowers, hay rides going on and plenty of motorhomes rolling in and out. This luxurious campground had a hotel, golf course, skeet range, saloon and lodge situated in the middle of many old growth oak hammocks. I was in the middle of motorhomes at a dude ranch turned luxury RV resort named River Ranch.
I found my customer, set up my step ladders, work plank and got to work. A few days later the beautiful painting of his favorite automobile was complete. Requests for many other creations overwhelmed me. Many opportunities awaited. I fielded questions about painting murals, inscriptions, dog portraits and many other things for Ma & Pa USA. I painted as much as I could while there, but I had other obligations. I had to get ready for the upcoming circus tour. Plus, I was making new concession stand signs for Allen C Hill's Great American Circus.
Once imprinted with how this place put me in the proximity of lots of work, I made plans to return the following winter season to provide my custom sign lettering and airbrush painting services. I vowed to return next winter. I would find a place nearby to board my animals.
My eyes had been opened to an incredible opportunity. I then drove west and returned to the remote farm to resume my current quest. For now, I had to get my livestock trained.
The experience opened my eyes to a huge market that existed. This provided a perfect starting point for my talents to flourish with these soon-to-be dear-to-me customers.
I really can't take any credit for the humble beginnings of my motorhome painting career. Call it serendipity, karma or destiny, the dramatic turn that catapulted Letterfly the artist into this select clientele, was all the result of a happy accident.