The move to Carbondale occurred at a time when I was ready for change and had momentum in my quest for recovery. The devastation of recent experience made me willing to go to any length. In Carbondale, I attended meetings regularly, yet a defiant, demand-resistant stance remained.
The guru of the community, a man called Rocky, had a unique deviation with the format of the program. Although small, his deviation promoted a resistant feeling in me that short-circuited my flow of gratitude. I remained secretly agitated at what I perceived to be his intentional infliction. My secret angry attitude short-circuited my healing Thankfully, a gradual change began. I mustered up courage and began to share. As a participating member of the group, I began to share internal thoughts. I began to share about feeling valued less than others, being bombarded by an inner critic who was never satisfied and how impossible it would ever be to measure up. In the emotional eruption that followed, I even shared thinking I would be better off dead. This intimacy provided a connectedness plus I became an example to the newcomer. Over time, the group became familiar with me and this issue, and I began to feel safe.
In group discussion, I revealed my predicament – I chose being on the road with no roots. My ambition was interrupted by my self-inflicted calamity. These were foreign concepts to these non-showmen. The helpful ideas received were from people who lived in community, a vastly different lifestyle than the one I chose as a teen. Nevertheless, they suggested several workable suggestions. Out of the blue, I heard an idea from one innocent member that made me start to weep.
"Why don't you just go home?"
A floodgate of emotion opened. Years of dammed up feelings about the frustrating situation I grew up in that made me discard home and family, perceptions of a cruel world I found out on the road and how it became necessary for me to fix things myself flowed out. I wept.
"I don't have a home."
"If you had a home, where would you want it to be?"
This concept interrupted the grief and started a new cycle of thinking. I had been to hundreds of towns during my wandering career. I began to realize that I enjoyed one place more than all the rest – Clarklake, Michigan. This realization gave me hope and a starting place.These thoughts began to sooth me.
I recalled a conversation that had occurred years ago at the back door of Kelly Imports, where I gathered with the mechanics after work to imbibe in amber beverages. This had been our tradition since meeting them in the seventies. As the years went by, one at a time, they quit drinking. We still gathered at the end of our workday to unwind, but I was the only one with a beer. During a lull in our conversation, Kelly had something to say.
"If a man came to me and asked me for my help," he began, "and he was still drinking, I believe I would tell him to go get off that stuff and then come and ask me for my help."
At the time, his announcement had no meaning for me. Now, immersed in what I was fully present to as my self-inflicted quandary, I understood his intention. I got the message. I saw hope. I wrote him a letter. Here is a synopsis;
Dear Kelly,
I am now a sober member of AA with the ambition of becoming the best sign painter in Jackson, Michigan, and need a place to land.
Sincerely, Dave
I received a response from him that said; you will be welcome to set up your sign business in the back of my shop.
For the first time since turning my back on my home as a teenager, I had a place to call home.
On a quiet afternoon, I got together with one of the men of the fellowship and entered into the purge process that promised healing. This was a scary proposition. Revealing the grosser behaviors of my past could promote shame, but my understanding host pointed out that if the deed had a name, probably others had done it too. As I shared the hatred I had for my brother and the odd behavior he produced as a child, the resentment for being cornholed as a youngster, the anger for the treatment from Frank the carnival owner and the cruelty from bullies as a child that made me withdraw from others, my host simply listened while calm and accepting. When I was through, he shared some of his story with me. He repeated many similar episodes. I discovered I not unique.
After this purge this man accepted me regardless of my disclosure. He demonstrated unconditional love. As I listened, he explained what we had gone through. Others suffered from perceptions of the world tainted by cruel behavior from others. There were other victims of selfish agendas who experienced rejection for being who I am. For the first time, found a commonality with others. I felt release from this stronghold in my heart that had kept me separate. As my heart softened to include others on a similar plight, I also noticed an emerging feeling of the presence of a loving God. I savored my new connection. With this epiphany, a chapter of my life arrived at a logical conclusion. I was part of the herd, a man who could lift his head and walk confidently in union with my newly found higher power. I could use my talents, the love in my heart and this discovery to bless my surroundings. The time came to travel 'home.'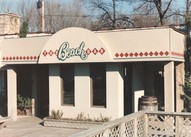 I took the rig with Betty the mule and the merry-go-round horse to Michigan. In Clarklake, Betty enjoyed the summer on pasture and Tom Collins let me park the rig behind the Beach Bar where the campground used to be. I missed my friend Hayes, who had passed away a year earlier. I then became reacquainted with the countryside and the people in this state I loved.
My daily commute into Jackson included stopping in to see Ken Soderbeck, Clarence Hastings and the other businessmen I had met over the years. I set up a simple easel in the back of Kelly Imports and got to work. A little at a time, I found work to do, trucks to letter, signs to design and paint, and store fronts to embellish.
Every day at noon, I walked from Kelly Imports two blocks to Michigan avenue downtown, to the side door on the Economy Art Supply store and went upstairs. A small AA meeting took place in one of the empty rooms on the second floor. Ruth, an elderly black lady was usually in charge. I also met Larry who became and remains to this day, a great friend.
The recovery process resumed around my new friends and gathered momentum. After being 'home' for a few months, my one-year sobriety birthday arrived. Ruth asked me what kind of cake I wanted.
"I want a chocolate cake with chocolate icing," I blurted out.
Then I thought of something else, "with chocolate sprinkles on top."
On the sixth of June 1988 at the noon meeting, we had my birthday party after the meeting.
Participating every day with the like-minded folks of this fellowship slowly influenced a new way of thinking and revealed a new design for living as I assumed my permanent role in this community.
Staying put for the first time in my life provided the stability needed for the process of recovery to become firmly established and bring about real change, something that did not exist in the whirlwind life of a showman. As the process brought about healing, instinctual parts of me that had been denied due to my consumption, now came to the surface. As I found alignment with the contemporary way of living my life, and the spiritual manner of thinking – as accumulated due to my relationship with AA – I had a welcome surprise. The circus was coming to town.
Two months into my role as sign man in Jackson, the indoor Nordmark Brothers Circus came to perform two shows in the theatre downtown two blocks from Kelly Imports. On the morning of their arrival, I went to see who was on the show and discovered my friend Joanne Wilson with her baby elephant. Our conversation picked up right where we left off the last time I saw her. For the first time since the compulsion to drink had been lifted, I had an audience with someone wise about the ways of the road. From this relatedness, affection grew. She also had an issue with the cube-van the elephant rode in.
"Hey Dave," she asked, "Do you know a mechanic?
I contacted Kelly to see if he could help her out. Soon we had her elephant truck in one of his service bays.
Working on the issue underneath her truck was a challenge for the mechanic, as the baby elephant kept swaying. She caused the truck to move back and forth while he worked. The underneath also dripped the entire time. At one point the little elephant had to relieve herself. The mechanic then had to deal with both working underneath and finding the right place to avoid the deluge. While the elephant was at the garage, I had an idea.
Inspired, I had a vision of a photograph opportunity. When Joanne's truck was fixed, I told her my idea. She then unloaded the elephant while I assembled the mechanics for a photograph. I rolled the Snap-On diagnostic machine over for effect and had Rick climb up on top of the elephant. I took a group photo of the elephant with the crew that day. Later I made a framed sign with the Kelly Imports logo over the top with the slogan 'we work on most imports' underneath.
Back at the theatre while I interacted with my friend, I discovered she was no longer married. Now my overactive imagination started percolating. My instinctual desire combined with our already relating on many levels due to our common vocation. I began to entertain a romantic notion.
The thought of love had occurred to me many times while on the circus but due to this life of going up and down the road, love eluded me. This part of normal life was made difficult by the touring lifestyle of the circus. Seeing Joanne's radiant smile and being reunited with the reality of her charm and ability as an all-around circus girl, sparked an internal desire that had lain dormant for all these years.
When circus day was over in Jackson, Joanne went to the next town. I arranged to have a bouquet of roses delivered backstage at her next town. She later reported having fun since the roses aroused curiosity and envy from the rest of her troupe.
Romance was difficult. Especially now. I was planted in a town and my romantic interest was a touring circus star. I was grateful for being reunited with my special friend. This special interlude awakened part of me. I would see Joanne occasionally over the years, but for now all we could do was stay in touch, dream about tomorrow and attend to our different individual lives.
Among the painting projects that kept me busy around town was one I entered with gusto – a shop sign for myself. My intention was to showcase all my talents with this one special piece. I designed a 4×6 panel to include the recent painting specialties learned – dimensional scrollwork, a marbleized background featuring a central Merry-Go-Round horse image accompanied by incised letters with the name 'Letterfly Sign works.' When complete and mounted on the face of the Kelly Imports building, my new sign caught the attention of Herman Gumpertz the fair manager.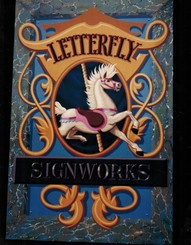 The next thing I knew, I was on the fairgrounds freshening up all the pavilion signs as I helped him get ready for the fair. I included my Merry-Go-Round horse in the homespun display section of one of the exhibit buildings. Herman also thought having a large spectacular painting underway during the fair would be another attraction for the patrons to enjoy. So, we put our heads together and designed something big to go on the end of the grandstand, fifty feet up.
Every day of the fair, I ascended scaffolding and began my task of painting the large depiction that stated 'Jackson County Fair' completely surrounded with flowers. The weather proved cooperative although the temperature reached into the nineties. I was in the direct sun all day with the exception of when I walked downtown to the noon meeting. A friend at the meeting made an observation three days into the project that proved revealing.
"You look tired," Larry observed.
He introduced me to something new. I had never directed the focus of my attention on myself. My mind was always consumed with the project at hand – idea percolating, composition planning, layout delineating, and painting. Larry was a good friend. He introduced me to paying attention to my body to notice what it was telling me. As I zeroed in on this new responsibility, I began to monitor my body and provide myself rest and nutrition as needed. I became proactive with my health.
Ken Soderbeck enjoyed my ambitions in town and invited me to attend a civic group luncheon at the nearby Elks Club. He had the idea that I would make a good companion for his step-daughter – Jana's sister – Gail. He knew she was grieving due to the recent end of a relationship and made sure she would be attending the luncheon too.
On that special day, I found my way into a large group of people enjoying lunch. I sat at the table across from a tall, dark haired, somewhat reserved, beautiful lady. I recognized the physical similarities of my friend, her sister. Her lovely almond-shaped face was framed with long, straight hair that cascaded down past her neck. She radiated an ambiance that aroused my curiosity.
As she warmed up to my presence, she began to reveal a pseudo, exotic air of mystique. I found out she enjoyed many creative connections with the community. She dressed display windows at the main department store downtown called Jacobson's. Also involved with civic theater, she was directing a play with rehearsals most evenings. As I accumulated more information about this wonderful, creative soul, I began to appreciate Ken's plan for me to meet her. As lunchtime wound down, I asked if I could call on her at the store. She perked up, seemed to glow and responded "yes."
Soon after, I met her downtown. She worked three blocks from me. Gail introduced me to her world. At Jacobson's she decorated each display window with an apropos setting, chic accompaniments and the latest fashions. She showed me one window in particular. Her latest arrangement of the new fall fashions included a faux brick wall with a chalk graffiti heart on it with our initials GJ+DK on it. My heart flutter-pated a beat.
Not unlike an entire city, the department store is a whole entity unto itself. Inside Jacobson's a whole culture existed, with make-up experts, fashionistas, clerks, art directors, marketing experts, and the support staff that augment a large company infrastructure for a large operation such as this. This complicated layering of egos and personal agendas in the chain of command provided me just a glimpse of corporate insanity, although since I was on the outside looking in, none of it impacted me.
I began to meet Gail for breakfast at Jacobson's regularly.
"Good morning mister Keating," Gail began, "will you be having those little round white potatoes?"
"Oh," he dreamily pondered for maximum effect, "those little white potatoes?
"I think I shall," he finally responded, "after all, they are quite heavenly."
While there, I watched Mr. Keating, her art director, break a plate in the restaurant each morning by tapping the edge repeatedly with his knife. I learned he did this every day. This act of creative destruction I never understood.
"Why do you call him mister?" I wondered.
"I use it as a display of respect," Gail offered.
She enjoyed the hierarchy protocol in place at this interesting social blend.
Gail was also immersed in the theatre. She had a collection of vintage clothing utilized during her dramatic contributions. One evening, I attended the play she directed, called 'Pizza Man.' While I watched the production, and afterwards, mixed with the actors and crew, I became aware that her talents, observations, insights and encouragements were easily transferred to others, this reflected her regard for lifting others to greatness.
While meeting Gail throughout our work week, we responded to each other favorably. I received an invitation; "will you please house-sit this weekend while I am out of town?"
Her house, a tall, brick home with four apartments, sat on Washington Avenue. I didn't completely understand why anyone was needed in her home during the weekend away, but when she returned and I was there, we seamlessly entered into coupledom and true love took off like a rocket.
Autumn approached. The living situation in the horse trailer at Clarklake would not be adequate during the winter at all. Gail invited me to move in.
I had not lived in a home since I hit the road as a teen. Soon, I participated with leaf raking, snow shoveling, interior repairs and painting.
The home had a dug-in basement with a small garage on the face and a large terrace with front steps that led up to the front door. Once inside her tidy home, she explained the wall color remained from when her grandmother lived there. She had another color in mind. Soon, we tackled the job of repainting the interior walls with the warm Parsley color that Gail selected.
She encouraged me to utilize the basement that opened from the garage for my projects. This was the perfect place to make sawdust and apply paint. Sign carving and other building projects were also handled in that space.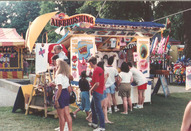 Inspired by opportunity at the fairgrounds, I rekindled the idea of resuming my T-shirt enterprise. During the winter, I started to build the components of a new improved T-shirt painting booth to use the following summer, a project Gail was mystified with. The basement had a boiler that made steam to heat the home. Because of this, the basement was a great place for my woodworking and sign making projects when it was cold outside.
I attended church with Gail every Sunday morning. The Unity church met at the Woman's Club building, a one-time home of an affluent family. The large home was still filled with fine furniture, paintings and interesting appointments. The small group that met each week enjoyed a spiritual analogy that was a perfect fit for me. Because of my exposure to a variety of spiritual concepts at Shiloh, I had spiritual questions that the AA community did not have answers for. The Unity church became the perfect place for me. Unity has a foundation in the Gospel and addressed contemporary concepts in a practical and positive way.
As my presence in this town expanded, I became part of the community – something that, as I look back, God knew was essential for this entry phase of my recovery. Regular attendance with a variety of community groups promoted my ability to enter intimacy with others necessary for my growth.
Living near Clarence Hastings, my original riding instructor, allowed for frequent visits. Our camaraderie rekindled my passion for horsemanship. The conversation about the criteria for my next horse had an appropriate audience. Clarence and I went on an excursion to see Chuck Grant. There our conversation expanded. This piqued my interest in resuming my passion and also reminded Chuck know about my interest in classic horsemanship.
I also made contact with my saddlebred horse friends near Fowlerville. They heard my story of tragedy; the debacle of having to put my big mare down that interrupted my career. I shared with them my desire to find another horse. Sharing this planted a seed. I went back to my life with Gail in Jackson. Without my knowing, they put things into motion among their friends that would influence my future.
Elaborate sign jobs that utilized skills developed around the carnival began to materialize. Through contacts with Gail's retail friends, I was invited to create an elaborate Victorian scrollwork design on an old storefront downtown being renovated into a high-end dress shop. I created a stunning design. My idea was for each large show-case window across the front of the store to receive a large oval surrounded by scrollwork. This allowed the featured merchandise to appear in a picture-frame of sorts. When complete, I sent a photo of the store front to the Sign of the Times design competition and received an award or my efforts.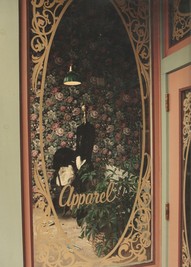 I had plenty of trucks to letter, business signs to make and creative logos to design. Those were the days when, for a four-color logo design to enter the printing process, four individual pieces of art – overlays – had to be generated by an artist. While I made these overlays, I had to visualize how the finished art would look. When complete, each overlay was photographed to make each color plate. With careful registration, the four-color printing process began. When the finished product rolled off the presses at ABC Reproductions, I finally got to see how my concept looked in full color.
I had fun stuff to do too. Tom Collins at the Beach Bar was always expanding and making his business better. He connected the main bar building with the building acquired next door to utilize as an office. Between them, he created a banquet room. Inside, he had a railroad train that ran on shelving around the room and behind the fireplace. He wanted the wall surfaces behind the train track to receive specific airbrushed scenes. The reference for these paintings were taken from old photos that showcased the historic past of Clarklake, of which he spear-headed the Historical Society. This sort of project and the contacts made while underway, lead to many others.
In a bar downtown, called the Bear's Den, I painted a comical scene with cartoon bears on an interior wall. I also helped with theatrical scenery for Gail's ambitions.
A paint contracting company had finished re-coating the exteriors of the mega fuel tanks at a fuel depot outside of town. They needed the Citgo logo painted huge on the outside of one tank, fifty feet up. They left the swing stage up so I could use it.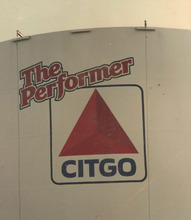 I had never tackled a job this big or high before but I had everything needed. The job was just on a big scale. Because the swing stage had a motorized winch on either end, the sensible thing to do was to hire an assistant. I recruited a man from the fellowship. After we loaded our painting supplies we climbed onto the stage. With one of us at either end, we activated the winches simultaneously and the apparatus rose to the level of the job.
The first day of rising to this height, I laid out the huge logo on the fresh paint. I stayed busy with the creative tasks as my assistant filled in large areas of color with a big brush. By the end of the second day, our efforts had produced admirable results but my assistant began to exhibit behavior that made dismissal apropos. I let him go.
Although this job was appropriate for two men, the third day I figured out how to complete the project myself. I arrived in the usual way. I loaded my paints and supplies onto the stage and climbed aboard. I walked the length of the stage to one end and activated the switch. That end started rising. As I made my way to the other end my downward path became steeper with each step.
At the other end, I switched the winch on and the stage began to rise albeit at a dramatic angle. As the unit rose, I walked up the steep gangway to reach the first winch. When I arrived at the level where the work waited, I switched the first winch off. I then walked down the other end to switch the other one off as the stage leveled off. Then I sat down. My heart was pounding and my blood was full of adrenaline. I had to wait for a while to calm down enough to resume and finish the painting.